Dental Plans
DENTAL INSURANCE
Multiflex Dental Insurance Plans from Merchants Benefit Administration, Inc.are available with basic preventative care through minor and major dental procedures.

Coverage is available for Individuals and Families under 65 years of age and for Seniors over 65.
Stay with your current Dentist or the Dentist of your choice.
You pay a percentage of the negotiated fee with a choice of yearly
benefit maximums of $1,000, $1,500 or $2,000.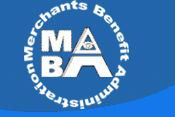 Click on the MBA logo to apply online.